Add products by adding codes
Enter the product codes that you want to add to the basket in bulk (after a comma, with a space or from a new line). Repeating the code many times will add this item as many times as it appears.
✅ Sensational bottle, indispensable during intense training.
✅ Graduated bottle to help you control your water intake each day.
✅ Made from Tritan - this material is safe for health and extremely durable.
Water Bottle Contigo Jacksnon 2.0 720ml - Juniper
New from Contigo! Water bottle Contigo Jackson 2.0
With the latest AUTOPOP® technology which ensures 100% tightness in the closed position
Convenient one-handed operation
Wide mouthpiece designed for the most comfortable drinking experience possible - the bottle is ideal even for thick drinks - like smoothies.
Mouthpiece protection to keep the bottle clear of any debris
Push-button lock for extra security on the move
Folding handle ideal for easy carrying
Fully dishwasher safe
Available in Tritan™ plastic.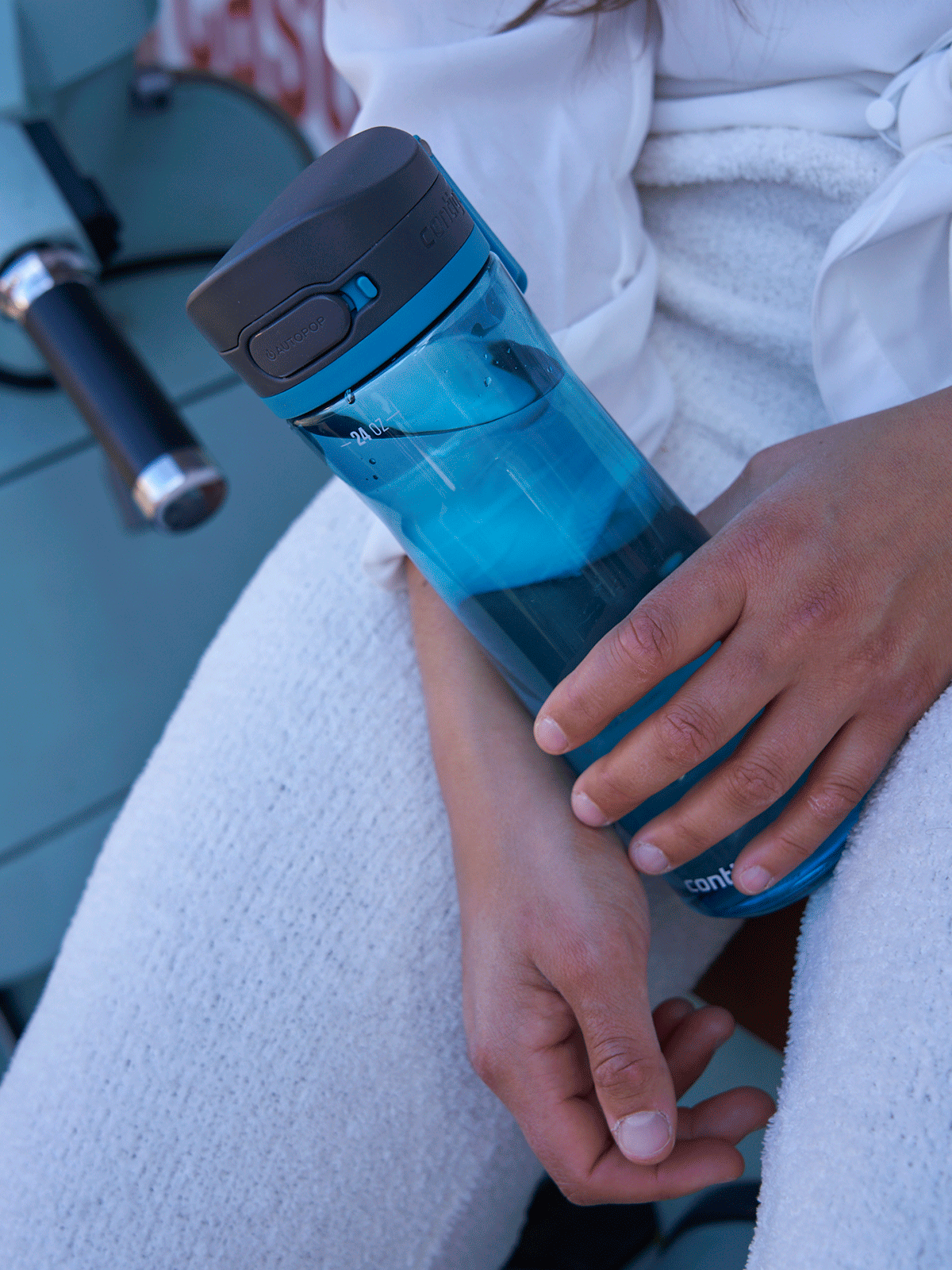 Convenient one-handed operation - wherever you want it.
Our AUTOPOP® technology helps you hydrate even when you're in a hurry without missing a drop. Whether you're taking part in a spinning activity or on the trail, our bottles are designed to keep up.
Contigo AUTOPOP™ 100% protection against spillage
Equipped with the patented AUTOPOP® technology. Simply press the button to open the spout and drink comfortably with one hand. The wide mouthpiece is ideal for drinking in any situation. When you're done - simply snap the lid , to fully close it and protect it from spills, dirt and debris.
Bottle Contigo AUTOPOP™ is leak-proof and has a push-button lock to prevent accidental spills. This 100% BPA-free water bottle also has a convenient carry handle, and a protective lid to keep dirt and debris out.
Ekologia
One bottle for many years. Using reusable bottles you are contributing to a significant reduction in your carbon footprint. Our bottles are completely safe for health, without harmful bisphenols (BPA)
Hygiene is important - bottles are easy to wash
This was the aim of the designers from the start. No nooks and crannies, no confined spaces, no loose parts that can be lost...
The cap opens for easy cleaning. Each part: the body and the cap, can be safely washed in the dishwasher - on the top shelf.
Contigo Jackson 2.0 zalety
AUTOPOP™ technology ensures a leak-proof seal when on the move (in the closed position). Simply press a button to open the mouthpieces for comfortable drinking even on the run.
One-handed operation.
Safe drinking - the protective mouthpiece guard protects against dirt and debris
Both lid and body are dishwasher-safe.
Push-button locking for added security.
Folding handle for easy storage.
Fits most car and bike mounts.
Made of odour - and stain-resistant TRITAN™ plastic
BPA-free
Turquoise
Convenient one-handed operation