Add products by adding codes
Enter the product codes that you want to add to the basket in bulk (after a comma, with a space or from a new line). Repeating the code many times will add this item as many times as it appears.
✅ New from Contigo - 700ml thermos
✅ Keeps you cold for up to 30 hours and warm for up to 13 hours
✅ Dishwasher safe.
Thermos/Thermal Bottle Contigo Fuse 700ml - Blue
Fuse is a completely new take on what we have long known as the coffee thermos. It takes the popular accessory to a new level of practicality. After all, this sturdy, insulated flask can be used not only to store hot drinks, but also to keep cold fizzy drinks at the right temperature for a long time.
Carbonated beverages cool for up to 30 hours
We do not have to worry about gas bubbles escaping quickly. This is because the product is 100% airtight when closed and can also be used as a beer thermos. It will keep a cold drink at the right temperature for up to 30 hours and tea or coffee warm for up to 13 hours. All thanks to Thermolock™ double-wall vacuum insulation.
Impact resistance
Just as importantly, this steel thermos is extremely durable, so you can take it on any extreme expedition with confidence. The 18/8 stainless steel used to make the body of the product is responsible for its durability and resistance to mechanical damage.
The designation 18/8 refers to the composition of the material, i.e. 18% chromium and 8% nickel. This type of steel is also resistant to corrosion and has good thermal conductivity, which means it can also be used to make cooking pots and high-quality cutlery.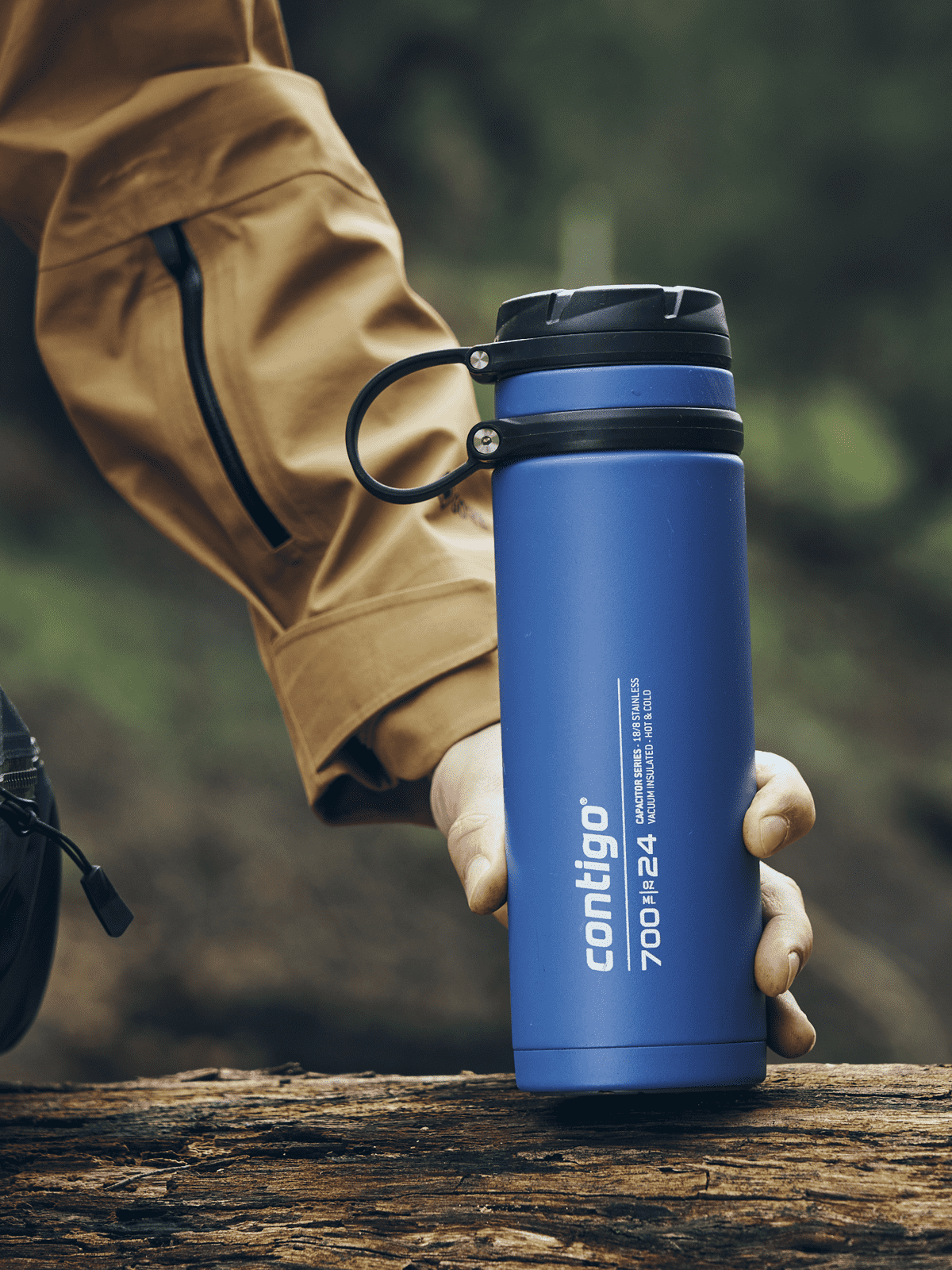 A one-piece cap that you won't lose
Contigo Fuse flasks have a one-piece lid with grooves for easy unscrewing. You can even do this with gloves or wet hands.
The lid is attached to the body with a thermoplastic polyurethane elastic band. This not only ensures that you don't lose the lid, but also makes it easy to attach the thermos to your backpack or bag.
Even more advantages
This is not the end of the advantages of these thermos flasks. Some of their most important features are
a soft, non-slip base to prevent scratching the bottom of the thermos and ensure that it stands securely even on wet surfaces
Non-slip body finish - Matt powder coated
all parts are dishwasher safe
no harmful BPA (Bisphenol-A) in the composition
700 ml (24 ounces) capacity, that's almost 3 glasses of your favourite drink in one thermos
Suitable for fizzy drinks
Convenient one-handed operation