Add products by adding codes
Enter the product codes that you want to add to the basket in bulk (after a comma, with a space or from a new line). Repeating the code many times will add this item as many times as it appears.
✅ The Contigo Byron is a lightweight and handy thermal mug.
✅ The non-slip silicone band allows a secure grip and ensures comfortable use.
✅ The state-of-the-art Snapseal system guarantees a 100% leak-proof seal.
Thermal mug Contigo Byron 2.0 590ml - Juniper
100 tight Snapseal technology
convenient one-handed operation
practical, non-slip headband
Holds 470 ml of liquid
Excellent thermal insulation Thermalock
Cap easy to clean
BPA-free
Contigo Byron 2.0 thermal mug- with anti-slip band
Activity is your middle name. You swim, run, ski, walk in the rain, chase after a runaway tram or simply race against office deadlines. You want a reliable thermal mug to accompany you in all these tasks. By reliable, I mean one that won't slip out of your hand even when your hands are wet or protected from the cold by gloves. The Contigo Byron 2.0 thermal mug is the perfect answer to this and many other needs. It is a better, even more perfected version of the much-loved Byron 1.0. See what's new in the refreshed series.
New anti-slip cover
As a first in Contigo's Byron 2.0 series, we have taken the silicone cover located on the top of the cup to task. We have placed irregular, raised lines of different sizes on it. Thanks to these, even when your hands are wet, the Contigo Byron thermal mug will not slip out of your hands.
100% leak-proof Snapseal technology
Slide the cap closure up with your thumb and drink, slide it down - secure the mouthpiece. Could it get any simpler than that? Thanks to the described Snapseal technology based on a snap seal, Byron 2.0 cups are extremely easy to use with one hand. The described system ensures that the product is fully sealed and you can even turn it upside down at will.
Brilliant thermal properties
Your coffee warm for most of the working day? Yes, it is possible! The Contigo Byron 2.0 keeps drinks hot for up to six long hours and cold for up to twelve hours. On the larger 590 ml models, these values are seven hours and eighteen hours respectively. The excellent Thermalock thermal insulation is responsible for such amazing performance.
Resistance to mechanical damage
Contigo Byron 2.0 thermal mugs are made of high-quality stainless steel (body) and durable plastic (cap, anti-slip band). Thanks to this, even lightly bumping it against a hard object or dropping it from a small height - no damage to the product should occur.
Cap easy to clean
If hygiene and cleaning convenience are key for you, we have great news for you. Every nook and cranny of the cap of the Contigo Byron 2.0 thermal mug can be cleaned extremely easily. And this applies to cleaning by hand as well as in the dishwasher. The cap, with which every Byron 2.0 thermal mug is equipped, is also suitable for automatic washing. To make it more efficient, open the mouthpiece of the cup before placing it in the dishwasher.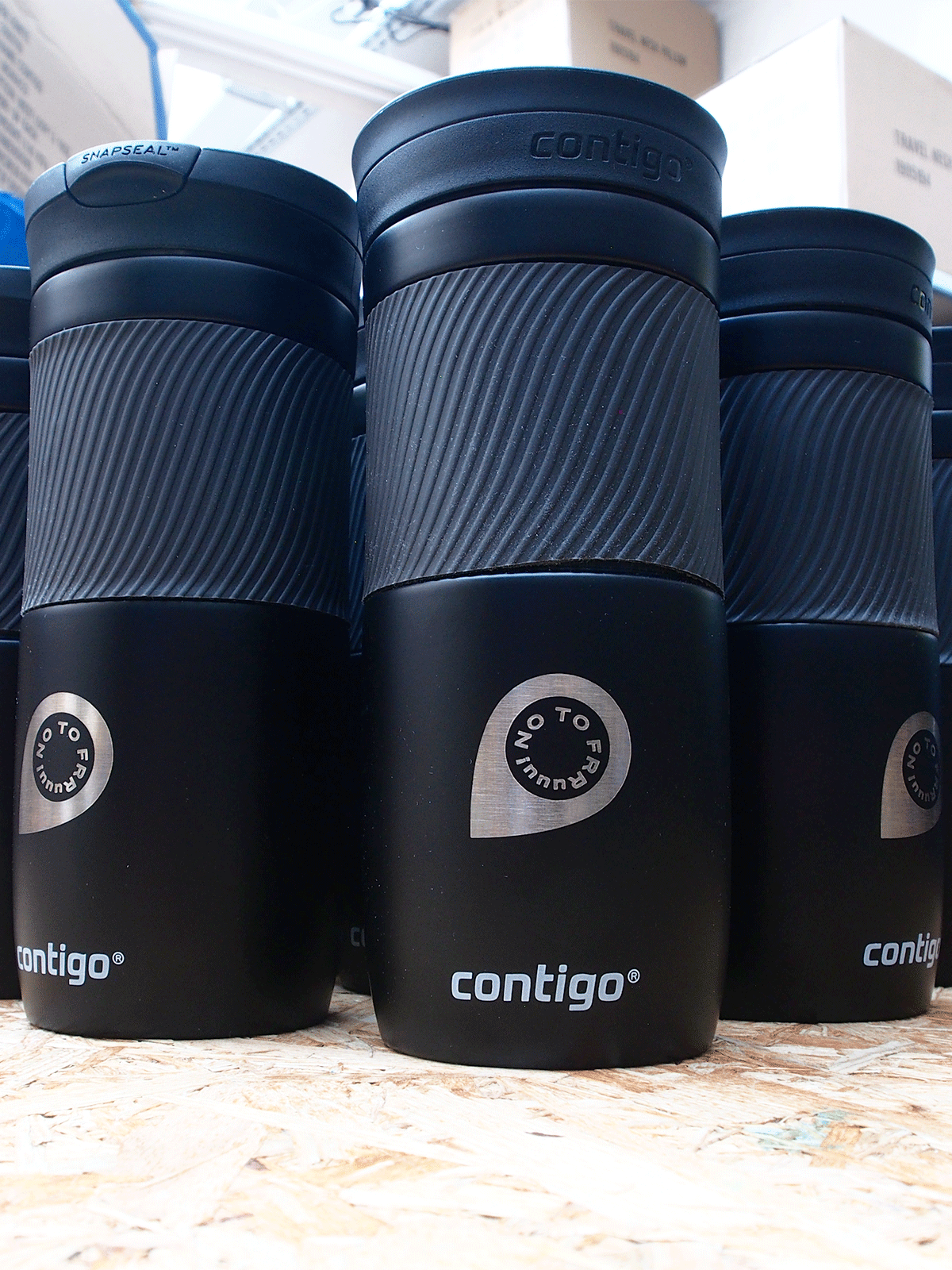 Contigo with your print
Want to make your brand stand out from the crowd? Choose the iconic Contigo products printed or engraved with your company logo. We carry out such designs from 24 pieces. Send us your logo or graphic in *.eps, *.cdr, *.pdf, *.ai graphic format in 300dpi resolution and CMYK colours and we will prepare the visualisation for you. Send your enquiry to b2b@redbird.pl and we will prepare an attractive price and visualisation of your mug.
Blue Matte
Convenient one-handed operation